BOOK YOUR EVENT TODAY!
---
For over three decades and thousands of weddings and receptions, The Four Columns has strived to make every occasion the perfect event. Delicious food, elegant surroundings, and attention to detail are all brought to you by a warm, caring, professional staff at an unexpectedly reasonable cost. So let us make you and your family true guests, free from the worry of numerous details on this most special of days.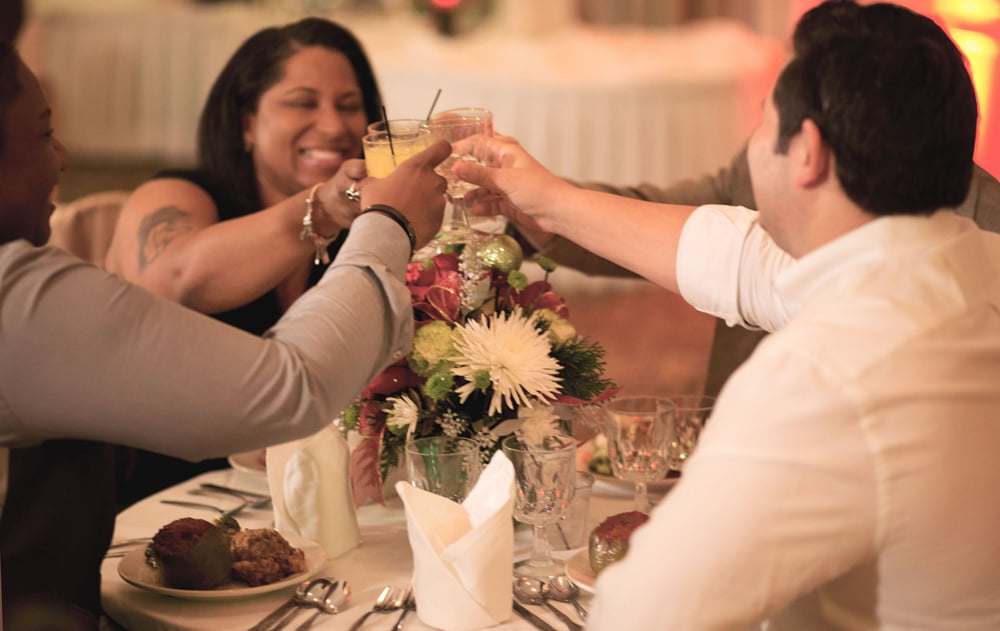 Since 1977, The Four Columns has provided on-location and off-site breakfasts, lunches, dinners and special orders for thousands of private, industrial, commercial, retail and non-organizations throughout the New Orleans area and adjacent parishes with references to that effect.
We can also provide chairs, tables, utensils and uniformed servers for any event, indoor or outdoor, with catering menu items listed online at www.fourcolumns.com for Cajun, Creole, Italian and American cuisine; all made with fresh ingredients and cooked to perfection using family recipes handed down through three generations. We provide more than just a meal; we give you a taste of New Orleans that's guaranteed to please.
Testimonials from our Happy Newlyweds
---
My wedding was amazing. We had our ceremony and reception here and the organization that The Four Columns has couldn't be better. They have been doing this for years and they truly are experts at setting up events and running events, they know exactly what will and what will not work with any look you are trying to accomplish. The hall was beautiful and the lighting and feel of the place was very intimate. The staff was friendly and very helpful. We had a personal server who catered to us as well as a coordinator who kept everything flowing. The food was fresh, hot, and tasted great. The price included everything except for any additional decorations I wanted and my DJ and Photographer which was very convenient and made planning less stressful. I enjoyed every minute of my wedding and I wouldn't have changed a thing about it. This is a place I would recommend to anyone.
Loved everything about this place. Price is reasonable. I paid $7450 for 150 people and the bride and groom, parents of the bride and groom, the wedding officiant, the DJ or musician, the photographers, and kids under 5 years of age don't count. I had the wedding there and the reception. Everything was GORGEOUS. The place does look a bit drab when an event isn't taking place but they know how to have the place right for your event! The lighting, chandeliers, ambiance, cake tables, and the food was breathtaking! This place was stunning and the staff were so helpful and kind. Just the type of people you want to have organizing your function. I loved it and I would recommend it to everyone getting married in New Orleans.
Very budget friendly and reasonably price for everything that is offered in the reception package. However, my now husband and I wanted to change things up a little bit to make the reception space fun and modern and reflect us as z couple.. since all couples are different. The staff at The Four Columns was not very open to change and was very stubborn about their way of doing things, as they informed us that they had been open and "doing weddings for 37 years". We hired an outside planner to help up spruce the place up but they still were behind us every step of the way very reluctant to let us change anything. In the end I actually enjoyed my wedding and the service was absolutely FANTASTIC. My guests also loved the open bar.
---
I knew from the beginning that I wanted The Four Columns as my venue, but they exceeded my expectations. I was in awe of how well prepared they were for each aspect of my wedding. The price of the venue and everything that is included just couldn't be beat. They have been doing this for a long time and proves that they know all the ropes. I highly recommend this venue!
Brittany, now that the dust has cleared and I've caught my breath, I just wanted to thank you and your Mom, Grandmother and the entire staff at the Four Columns for making our wedding fabulous. Ya'll really were a joy to work with and hands down the best value for the money in greater New Orleans. Thanks for being so attentive throughout the process and everyone the day of the wedding were equally attentive and professional. We appreciate you all!
GET IN TOUCH TODAY
FOR YOUR SPECIAL OCCASION!
---